Eid-Ul-Adha – 9th July 2022
Eid-ul-Adha prayers will be held in our Masjid on Saturday (9th July 2022) at  07:45am and will be just one prayer.
Insha'Allah 
Eid-Ul-Fitar May 2022
Eid-ul-Fitr prayers will be held in our Masjid on Sunday (1st) or Monday (2nd) of May 2022 at 08:00am (depending on the sighting of the moon)
(There will be only one Jammat). *Fitrana for this year will be £4.00 per person.
Insha'Allah 
Ramandan April 2022
Ramadan starts from 2nd April andTaraweeh is from tonight 1st April,
Please click here to see RAMADHAN TIME TABLE Apr 2022 (pdf) 
Ramadan Kareem to all.  
Eid-ul-Adha July 2021
Eid-ul-Adha will be held on Tuesday, 20th of July at 10:00am at our Mosque.
In Sha Allah 
Eid-Ul-Fitar May 2021
Eid-ul-fitar will be on Wed, 12th May or Thu 13th May and prayers will be held at 10:00 am In-sha-allah. Due to current situations there will be only one prayer. Sisters and children under the age of 10 years are not allowed. 
Jazakallah.
---
Masjid Donations:
Please note our New Bank Account details for our Masjid donations. As from next month please pay your standing order and donations into this account: 
Daventry Muslim Association, Sort code: 60-83-01, Account Number: 20441762  (Bank name  = Unity Trust Bank)
---
Please note : 1st Ramadan will be Tuesday and we have arranged for Taraweeh this year IN SHA ALLAH.
---
2021 – COVID-19 NOTICE – DAVENTRY MASJID Open
Assalam o Alikum,
Praise be to Allah alone, and peace and blessings upon His beloved prophet, Muhammad (saw).
Following recent guidance from the UK government we have in sha allah re-opened our Daventry masjid since Saturday 4th July 2020, but adhere to strict restrictions as mentioned below. 
Masjid will open 10 minutes before Azan and close 10 minutes after jamat
You complete the registration with the volunteer and must put your contact number and in and out time.
No elderly over the age of 65 years and children under 12 years are allowed entry. Additionally, no person with underlying health conditions are allowed.
You must perform wadu at home if possible as there will be no access for wadu or toilet facilities.
You must sanitise your hands before entering the masjid (sanitisers provided)
There will be no access to quran cupboards.
Always abide by the social distancing rules, you must maintain 2 meters distance inside and outside the masjid including queuing.
Avoid handshaking or hugging, socialising and gathering within the boundary of the masjid.
What you must bring with you, always
You must bring your own prayer mat.
You must bring your own shoe bag to keep your shoes.
Ensure you have wudu before arriving at the masjid.
We will keep the situation under constant review and update the guidelines as necessary and in sha allah we pray to the almighty to grants everyone protection, comfort and ease.
Ahtaram Muhammad
Chairman
Daventry Masjid
---
Welcome to the site of the Daventry Muslim Association and Masjid in Daventry. Registered charity number: 1133432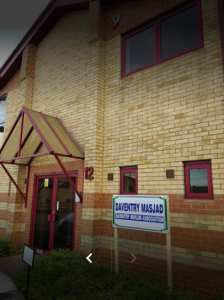 Daventry Muslim Association's charitable objectives:
1. to advance the islamic faith by the provision of a muslim community centre; 2. to advance education; 3. to preserve and protect the good health of people who live in daventry area by any charitable means which the trustees deem fit; 4. the relief of poverty and financial hardship by the provision of information advice and support. 5. the promotion of religious harmony for the benefit of the public by promoting knowledge and mutual understanding and respect of the beliefs and practices of different religious faiths.
---